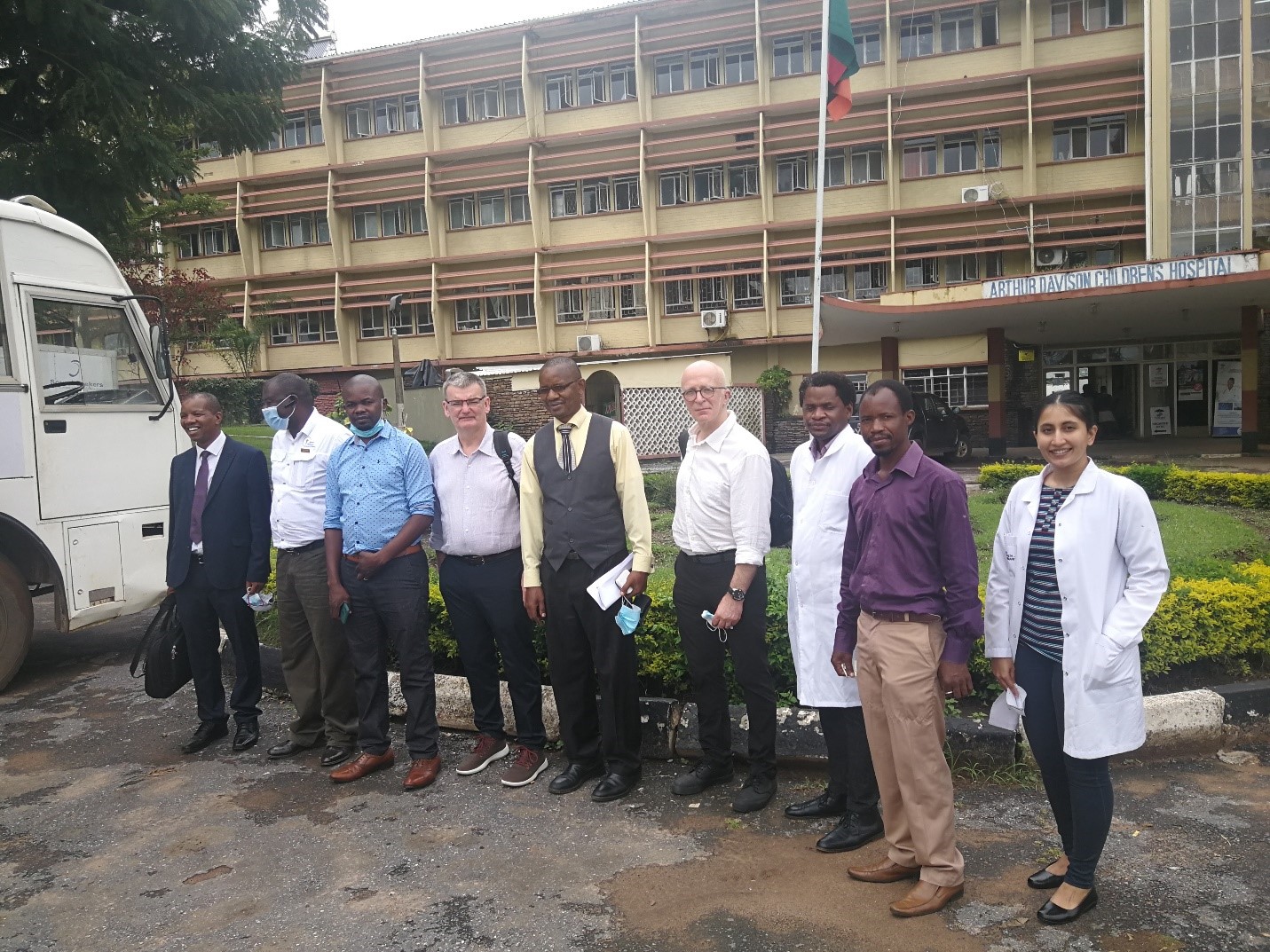 The Copperbelt University Michael Chilufya Sata School of Medicine (CBU-MCS-SOM) hosted a delegation from the University of Glasgow (Scotland) and Kamuzu University of Health Sciences (Malawi) to establish a tripartite collaboration in training and research in dental clinical sciences. The drive for collaboration is to share experience in addressing the challenges in training and research.
The delegations arrived in Zambia on March 1, 2022 and were welcomed by the CBU team, headed by the Dean – School of Medicine, Prof. Setter Siziya. The guests convoy included:
Prof Paul Garside, PhD, FRSB, FRSE, Dean for Global Engagement (Africa and Middle East), Director of Institute of Infection, Immunity and Inflammation, University of Glasgow

Prof. Andy Waters, PhD, EMBo, FRSE, FMedScie, Director, Welcome Centre for Integrative Parasitology.

Prof Mwapatsa Mipando, Former Principal, Vice Principal, Dean of Faculty, Dean of Students and Head of Physiology Department. KUHeS
The guests were taken on a two-day tour of the facilities at the CBU-MSC-SOM in Ndola including all laboratories, the dental clinic, lecture theatres etc. The guests also visited the Ndola Teaching Hospital and the Arthur Davison Children's Hospital where they visited the treatment rooms and met with the dental staff.
The guests met and interacted with the faculty in the Dental clinical sciences department and delivered guest lectures to dental students' year 5 and 6 in the Zukas lecture hall. The meeting with students was very inspiring. Many students were curious to know more about Glasgow, Kamuzu and how to get involved in research.
Discussions among the three institutions focused on how to build strong collaborations for capacity building. The institutions agreed to move on opportunities for collaborations in
Curriculum and exchange programs in teaching – including

Exchange of training materials (online)

External examiners

Research joint supervision and advisors

Exchange of staff

Undergraduate and Postgraduate training

Joint programs and training

Opportunity for masters and PhD for capacity building

Touring staff from UG to CBU Dental department

Areas of priorities:

Clinical mentorship to undergraduate

Orthodontics to both undergraduate and postgraduate

Prosthodontics

Pediatrics

Oral pathology and oral medicine

Periodontology

Research collaboration
Fellowship exploration how to work with the Royal college of Surgeons and Physicians of Glasgow (1-2 years fellowship program with focus on clinical and research)
Collaborations on the Child smile project

Link the child smile in Malawi, Glasgow and Zambia

Training of professional services for online training and face to face training

Online website (

Scottish funding

Bioengineering for Dental equipment
Support staff development
research mentorship and grant writing